June 7-11, 2021
SelectUSA Tech
SelectUSA Tech program connects early-stage and startup technology companies to prospects for advancement in the U.S. market. Stay tuned for 2022 SelectUSA Tech updates!
Stay Up to Date
Sign up for email updates to stay up-to-date on the Investment Summit! We also encourage you to follow @SelectUSA on Twitter. For additional questions, don't hesitate to reach out to the SelectUSA team.
SIGN ME UP
FOLLOW @SELECTUSA
CONTACT US
What Happened in 2021
Pitching Moonshot to investors and winning first place at SelectUSA Tech was critical to our international expansion strategy.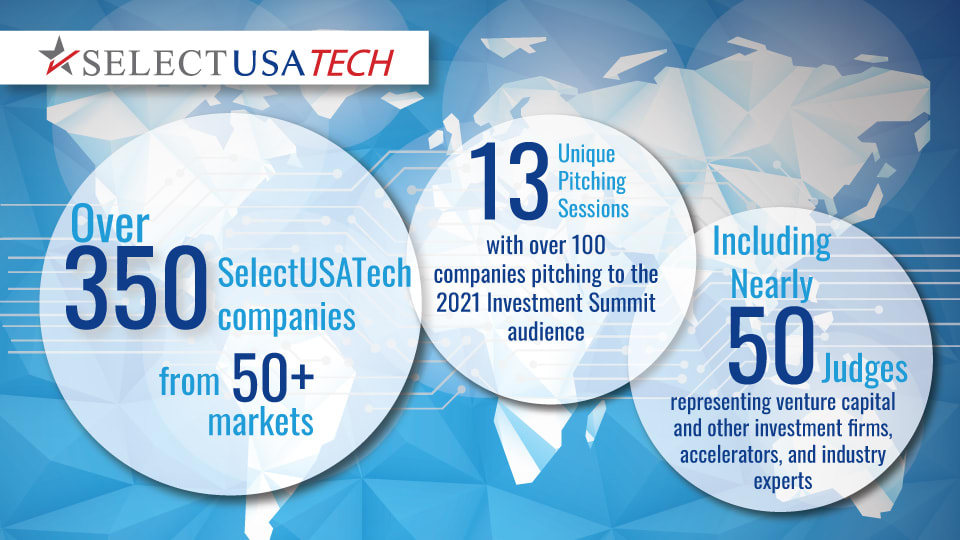 From the 2019 Investment Summit Academy: Startup Sessions
This panel discussion from the 2019 SelectUSA Investment Summit Academy breaks down how companies can access that capital and includes success stories.
In this video: Emily Miller, Policy Advisor, Office of Innovation & Entrepreneurship, U.S. Economic Development Administration; Allie Burns, Chief Executive Officer, Village Capital; Tim Hwang, CEO, FiscalNote; Julie Lenzer, Chief Innovation Officer, University of Maryland, College Park; and Lindsay Karas Stencel, COO and Fund Manager, Launch NY Inc
How do you expand a startup in the United States? Where do you start? These panelists have asked those questions and had them answered successfully. Hear their stories!
In this video: Ellen Bateman, Director for U.S. Ecosystems, Global Entrepreneurship Network; Meirav Naor Weinstock, Co-founder and Chief Business Development Officer, IMNA Solutions; Mandy Sebel, Senior Vice President, Head of People - Americas, UiPath; Charity Weeden, Senior Advisor, Strategy and Policy, Astroscale