June 1-3, 2020 | Washington Hilton, Washington, D.C.
SelectUSA Tech
The SelectUSA Tech program (June 1, 2020) at the SelectUSA Investment Summit connects early-stage and startup companies to prospects for advancement in the U.S. market. Global startups have the chance to pitch their companies directly to U.S. accelerators, incubators, and venture capital - all while learning more about the U.S. market at the top business investment event in the United States.
Apply Now
Make a Splash. Make Your Pitch
The SelectUSA Tech Startup Investment Spotlight—one of the core features of SelectUSA Tech—gives international tech startups the opportunity to exhibit their products and tell their company stories.
Companies interested in applying to SelectUSA Tech
must be developing a new technology product or service or delivering an existing technology to a market in new ways
. They must also be
less than eight (8) years old, have generated up to $10 million in revenue
, and
employ up to 40 people
. Approved tech startups will be given a special discount to attend the full 2020 SelectUSA Investment Summit.
Approved tech startups can then apply to give 15-minute pitch presentations to a panel of venture capitalists and corporate investors in front of an audience of U.S. accelerators, incubators, and economic developers.
Pitch applications will open in early 2020.
Network with U.S. Capital in the Nation's Capital
Connect with U.S. investors, incubators, accelerators, and economic developers in the SelectUSA Tech Lounge and in the Exhibition Hall at the Washington Hilton (June 1-3, 2020). Economic development organizations won't just be showcasing the investment advantages of their regions – they will use the online matchmaking system to connect with entrepreneurs.
U.S. Economic developers are highly encouraged to recruit local VC and angel investors to join them at the Investment Summit.
Check Out These Sessions
The 2020 Investment Summit will include sessions on a wide variety of topics related to startup expansion and success, including:
Corporate Innovation
Emerging Trends with Business Analytics and Startups
Entrepreneur Ecosystems
Scaling your Startup
Smart Cities
Soft Landing Programs
Startup Funding and Financing: Accelerating your Business
Startup Success Stories
Research & Development (R&D) Trends
Transformative Technologies
Check Out These Locations
Make the most of your time in the United States by attending a tech-focused Spinoff Event. Find the local knowledge, connections, and resources necessary to turn your investment plans into reality.
LOCATIONS COMING SOON
Stay Up to Date
One of the best ways to stay in the Investment Summit know: sign up for email updates! We also encourage you to follow SelectUSA on Twitter. For additional questions, don't hesitate to reach out to the SelectUSA team.
SIGN ME UP
FOLLOW @SELECTUSA
CONTACT US
What Happened in 2019
Pitching Moonshot to investors and winning first place at SelectUSA Tech was critical to our international expansion strategy.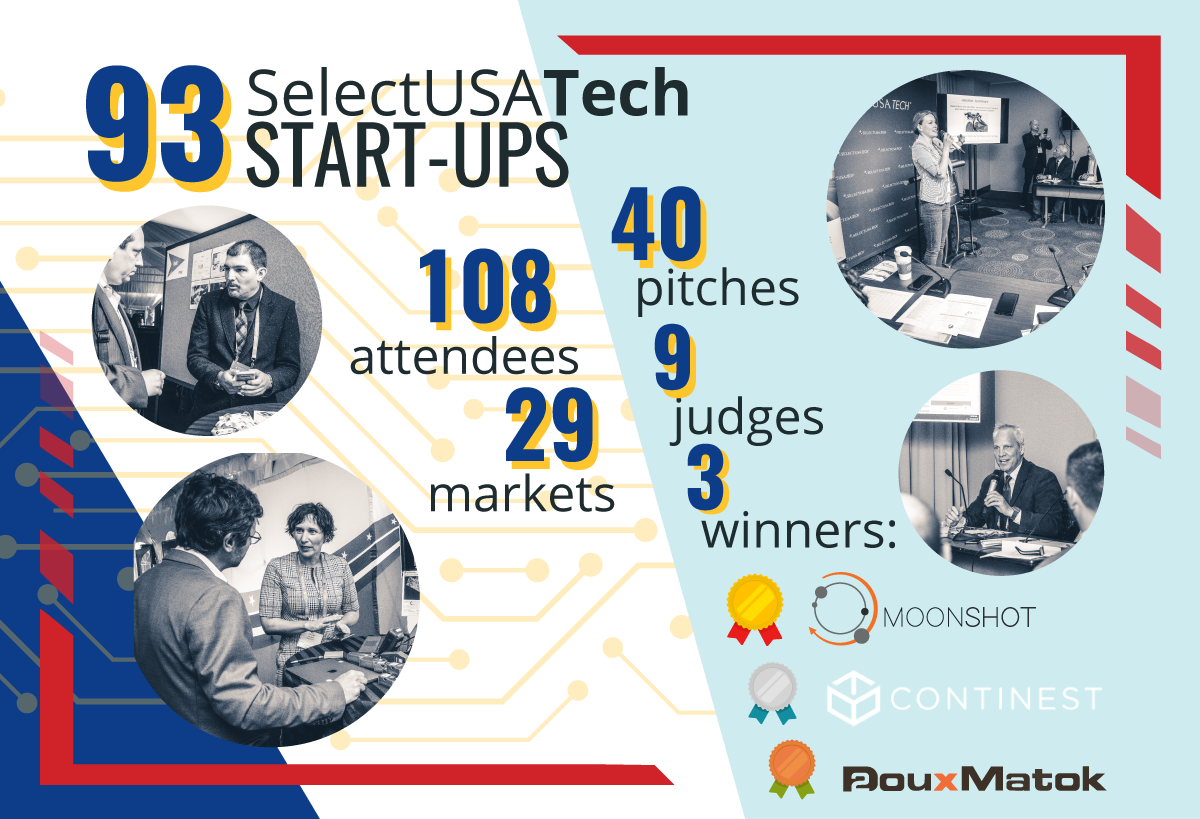 From the 2019 Investment Summit Academy: Startup Sessions
This panel discussion from the 2019 SelectUSA Investment Summit Academy breaks down how companies can access that capital and includes success stories.
In this video: Emily Miller, Policy Advisor, Office of Innovation & Entrepreneurship, U.S. Economic Development Administration; Allie Burns, Chief Executive Officer, Village Capital; Tim Hwang, CEO, FiscalNote; Julie Lenzer, Chief Innovation Officer, University of Maryland, College Park; and Lindsay Karas Stencel, COO and Fund Manager, Launch NY Inc
How do you expand a startup in the United States? Where do you start? These panelists have asked those questions and had them answered successfully. Hear their stories!
In this video: Ellen Bateman, Director for U.S. Ecosystems, Global Entrepreneurship Network; Meirav Naor Weinstock, Co-founder and Chief Business Development Officer, IMNA Solutions; Mandy Sebel, Senior Vice President, Head of People - Americas, UiPath; Charity Weeden, Senior Advisor, Strategy and Policy, Astroscale