June 10 – 12, 2019 | Washington Hilton, Washington, D.C.
The SelectUSA Investment Summit:
Where Business Potential Meets Business Opportunity
The SelectUSA Investment Summit promotes the United States as the world's premier investment destination and connects qualified foreign firms with U.S. economic development organizations (EDOs) to facilitate business investment and job creation.
The Investment Summit draws high-caliber attendees to help you make connections and get started on business deals:
EDOs on site to share business location intelligence.
Pre-vetted potential investors actively seeking business opportunities in the United States.
Relevant service providers that can help investment possibilities become realities.
C-Suite executives and government officials who can discuss the latest policy and business trends.
Learn More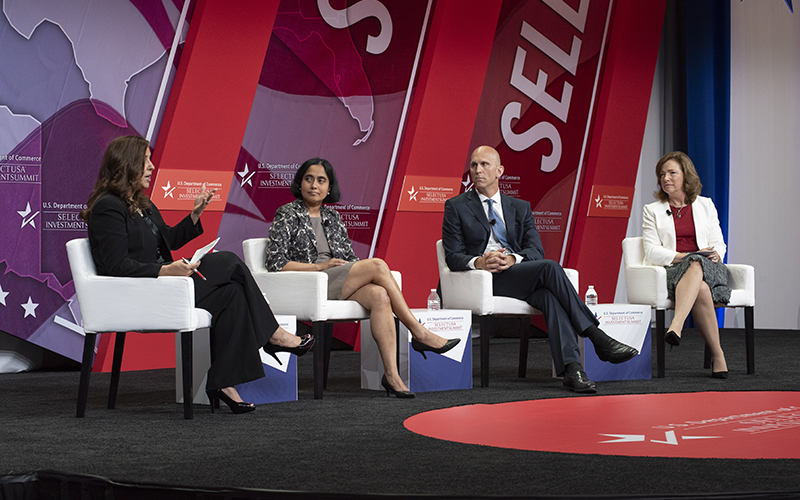 Latest Updates
Facilitating Business Investment to Deliver for the American Economy
November 1, 2018
Today, registration is open for the 2019 SelectUSA Investment Summit, and I am looking forward to another successful event connecting global business investors with growth opportunities in the United States. Next year's Investment Summit will take place from June 10-12, 2019 in Washington, D.C. at the Washington Hilton.
Throughout its existence, the Investment Summit has been a key contributor to advancing the Department of Commerce's mission to support U.S. economic growth and create opportunities for hardworking Americans. Past Investment Summit participants have announced $98 billion in new investment projects which have been responsible for creating more than 150,000 American jobs.
Read More
Highlights from the 2018 Investment Summit
The 2018 SelectUSA Investment Summit was the second Investment Summit to draw more than 3,000 participants to the Washington, D.C. area. Investment projects worth more than $600 million were announced at the Investment Summit, along with the release of SelectUSA's Rural FDI Report, which shows that nearly 95,000 jobs in rural America are supported by FDI. The 2018 Investment Summit included participants from 66 international markets, including 1,000+ global business investors and economic developers from 51 U.S. states and territories.




What is the Investment Summit?
Why Attend the Investment Summit?
View 2018 Videos