June 7-11, 2021
SelectUSA Tech
The SelectUSA Tech program connects early-stage and startup technology companies to prospects for advancement in the U.S. market. The 2021 SelectUSA Investment Summit will feature exciting opportunities and programming for SelectUSA Tech participants at a
discounted rate of $350 USD
, including:
Virtually exhibit products/services at a branded booth, with the opportunity to upload a three minute in-depth product/service demo video;
Apply to pitch in front of a panel of judges and an audience;
Participate in virtual workshops on how to finance and scale your startup;
Tune into SelectUSA Tech Investment Academy Sessions on investment trends and opportunities in key industry subsectors, as well as on topics like smart cities, soft-landing programs, startup ecosystems in the United States, and more;
Utilize the networking app and website to set up one-on-one meetings with economic development officials, accelerators, incubators, and others; and
Join invite-only networking opportunities.
Companies interested in applying for SelectUSA Tech
must fit the following criteria:
Less than 8 years old
Up to $10 million in revenue
Up to 40 employees
Developing a new technology product or service, or delivering an existing technology to a market in new ways
Incubators and accelerators
can qualify for a discounted rate to participate in the Investment Summit as a Tech Partner. To apply, email
SUSAEvents@trade.gov
.
Private equity investors and venture capitalists interested in judging the SelectUSA Tech Pitching Sessions
can email
SUSAEvents@trade.gov
to get involved.
Startup Pitch Sessions - Call for Applications
The SelectUSA Tech planning team is accepting applications through May 14, 2021 for Startup Pitch Sessions. For more information and to apply to pitch:
Selected companies will make their pitch in front of an audience of Investment Summit attendees and a panel of 4-6 judges, including venture capitalists, corporate investors, representatives from startup ecosystems, and industry experts. All pitches are limited to four minutes, followed by two minutes of Q&A from the panel.
Note:
Only companies approved to attend the 2021 SelectUSA Investment Summit under the SelectUSA Tech program are eligible to participate in the pitching sessions. Please
apply to attend
the Investment Summit under the SelectUSA Tech registration category before applying to pitch. Up to 70 companies will be accepted to pitch in industry pitching sessions.
Select Global Women in Tech Mentorship Network
This year's SelectUSA Tech programming features the launch of a new series geared towards international female founders, entrepreneurs, and executives in the tech sector, called the Select Global Women in Tech Mentorship Network. The program aims to promote American competitiveness and technology leadership by attracting talented female leaders in emerging technology sectors to spur economic growth and innovation, as well as support women's economic empowerment globally.
Any SelectUSA Tech participant who identifies as female is eligible to participate in the Select Global Women in Tech Mentorship Network, which is a six-month long program that formally launches at the Investment Summit and offers:
Matchmaking with an experienced, successful mentor who will hold 1-on-1 meetings at least three times during the program;
Mentors will help mentees develop a market entry strategy, tailor their product and promotion for the U.S. market, and overcome other obstacles and challenges;
Educational content such as workshops and webinars;
An exclusive networking platform to network and meet with peers; and
Chances to hear from successful global female founders.
Select Global Women in Tech mentees also have access to all the benefits and opportunities offered to SelectUSA Tech participants during the Investment Summit, including broader networking opportunities available at the Investment Summit.
Interested mentees
should indicate their interest on their application to attend the 2021 Investment Summit. Any SelectUSA Tech participant approved to attend the Investment Summit who identifies as female and indicated their interest will be registered as a mentee.
Interested mentors
can find more information and a link to apply
here
. For any questions, email
SUSAEvents@trade.gov
.
Share the opportunity with your network by downloading the flyers below:
Mentor Flyer
Mentee Flyer
Check Out These Sessions
SelectUSA Pitching Sessions
Aerospace
Cybersecurity
e-Commerce
FinTech
MedTech
Software
Other
Investment Trends and Opportunities in Emerging Technology
5G
AI
Commercial Space
Energy Storage
MedTech
Semiconductors
Unmanned Aerial Systems (UAS)/Unmanned Aerial Vehicles (UAV)
Select Global Women in Tech (Opportunities for Female Entrepreneurs in Tech)
Smart Cities
Startup Ecosystems
Startup Capital (How-to sessions on: Financing; Fundraising; Pitching; Scaling)
Stay Up to Date
Sign up for email updates to stay up-to-date on the Investment Summit! We also encourage you to follow @SelectUSA on Twitter. For additional questions, don't hesitate to reach out to the SelectUSA team.
SIGN ME UP
FOLLOW @SELECTUSA
CONTACT US
What Happened in 2019
Pitching Moonshot to investors and winning first place at SelectUSA Tech was critical to our international expansion strategy.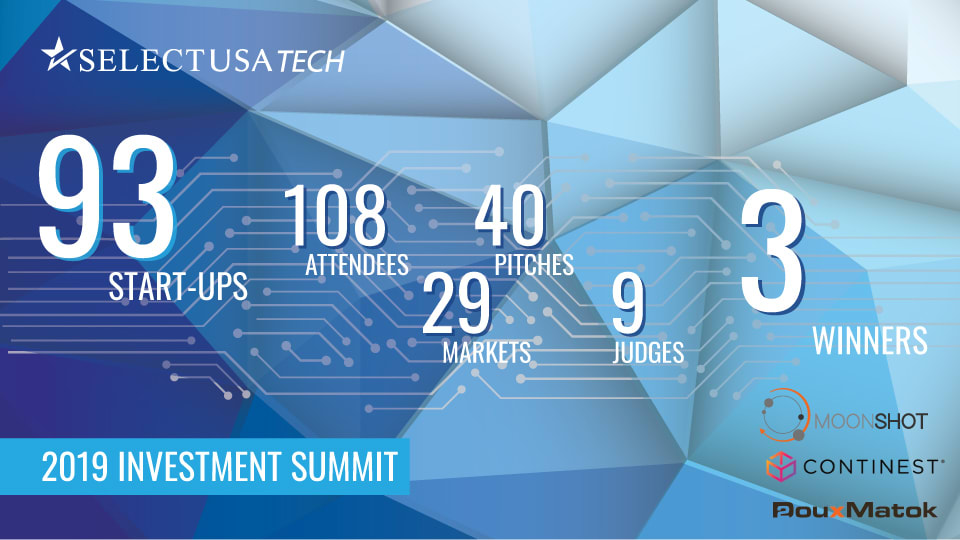 From the 2019 Investment Summit Academy: Startup Sessions
This panel discussion from the 2019 SelectUSA Investment Summit Academy breaks down how companies can access that capital and includes success stories.
In this video: Emily Miller, Policy Advisor, Office of Innovation & Entrepreneurship, U.S. Economic Development Administration; Allie Burns, Chief Executive Officer, Village Capital; Tim Hwang, CEO, FiscalNote; Julie Lenzer, Chief Innovation Officer, University of Maryland, College Park; and Lindsay Karas Stencel, COO and Fund Manager, Launch NY Inc
How do you expand a startup in the United States? Where do you start? These panelists have asked those questions and had them answered successfully. Hear their stories!
In this video: Ellen Bateman, Director for U.S. Ecosystems, Global Entrepreneurship Network; Meirav Naor Weinstock, Co-founder and Chief Business Development Officer, IMNA Solutions; Mandy Sebel, Senior Vice President, Head of People - Americas, UiPath; Charity Weeden, Senior Advisor, Strategy and Policy, Astroscale