Press Room
June 10 – 12, 2019 | Washington Hilton, Washington, D.C.
Teaming Up for Tech at the 2019 SelectUSA Investment Summit
April 30, 2019
David Steel is the Executive Vice President of Corporate Affairs for Samsung Electronics America, which is an official sponsor of the SelectUSA Investment Summit.
Samsung marked its 40th year in the United States in 2018, an investment that has been nothing short of essential to our company's success. Not only was it an accomplishment worth celebrating, but it was also the perfect time to reflect on the importance of the U.S. market and the strong ties we have forged with American industry and consumers over the course of four decades.
Since 1978, Samsung's U.S. family has grown to 20,000 employees across 46 states. Whether investing in manufacturing facilities in South Carolina, cutting–edge startups in California,or expanding our massive semiconductor operation in Texas, Samsung also realizes that in order to tap the true potential of the U.S. market, we must continue to engage on the ground.
That's why Samsung is excited to be involved in
the inaugural SelectUSA Tech program
at the SelectUSA Investment Summit, an initiative that aligns with our vision for high-tech manufacturing to propel the U.S. economy and provide high-quality careers for decades to come. The SelectUSA Techprogram connects our global firm with both American consumers and the innovators working to shape the trends and develop the technology that will spur global demand for our products.
To date, Samsung has invested billions of dollars in the U.S. through advanced manufacturing, R&D, and emerging technologies:
Over the last 23 years, Samsung has invested $17 billion in manufacturing and R&D at Samsung Austin Semiconductor (SAS) – one of the largest-ever foreign direct investments in the United States.
In 2017, Samsung announced a $380 million investment in a new, state-of-the-art home appliance manufacturing facility in Newberry County, SC.
Samsung has invested more than $6.6 billion in U.S.-based companies and start-ups across 30 industry sectors, including IoT, AI, VR/AR, smart machines, digital health, security, cloud, and more.
At the center of Samsung's investment opportunities is thevision for a connected world and the importance of selecting America as a partner to make this happen–recognizing our cultural ties founded upon partnership and innovation. For instance, the growing need to fill STEM-related jobs with qualified professionals pushes us to constantly invest inprograms that will train and inspire the next generation of tech talent and industry leadership. We constantly work to provide the essential tools and access to our technology to encourage, inspire, and support the people and communities we serve.
Our commitment to investment and growth in the U.S. is stronger than ever. Through partnerships with programs like SelectUSA, we are eager to continue doing our part to drive technology leadership and economic growth in the United States, further strengthening the thriving tech industry.
---
Media Registration is Open for the SelectUSA Investment Summit, June 10-12 in Washington, D.C.
April 9, 2019
WASHINGTON – U.S. Secretary of Commerce Wilbur Ross will host the 2019 SelectUSA Investment Summit which will include the participation of other key Trump Administration officials, members of Congress, U.S. governors, as well as executives from global companies including Braun, Hitachi, and Softbank.
The 2019 Investment Summit will be held at the Washington Hilton in Washington, D.C. from June 10-12.
The previous five Investment Summits attracted thousands of international investors, and past participants have announced $98 billion in new U.S. investment projects. The 2018 event attracted more than 3,000 total attendees, including investors from 66 markets and EDOs from 51 U.S. states and territories. Representatives from 50 U.S. states and territories and 43 international markets have already registered for this year's Investment Summit.
The SelectUSA Investment Summit is the highest profile event to connect global companies and U.S. economic development organizations (EDOs) to facilitate business investment in the United States.
For the first time, it will also feature programming targeted specifically for startup and technology companies interested in expanding in the United States. In addition, speakers at the 2019 Investment Summit will address key issues related to foreign direct investment and economic development, and discuss priority sectors including advanced manufacturing, health care and biotechnology, agriculture, and the digital economy.
The Investment Summit will be open to press Tuesday, June 11, and Wednesday, June 12. Registration at
www.selectusasummit.us/Newsroom/Press-Pass
is required for attendance.
WHO:
U.S. Secretary of Commerce Wilbur Ross, and others
WHAT:
The SelectUSA Investment Summit
WHEN:
Tuesday, June 11 - Wednesday, June 12, 2019
WHERE:
Washington Hilton - 1919 Connecticut Ave NW, Washington, D.C. 20009
---
Facilitating Business Investment to Deliver for the American Economy
Wilbur Ross is the U.S. Secretary of Commerce.
| November 1, 2018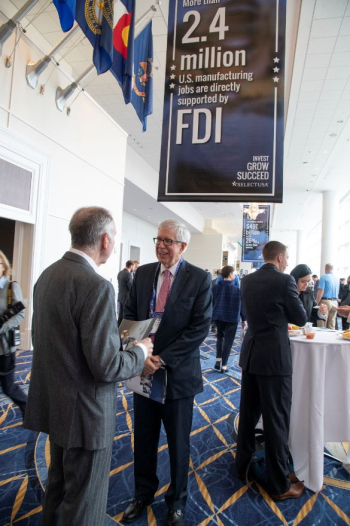 Today, registration is open for the 2019 SelectUSA Investment Summit, and I am looking forward to another successful event connecting global business investors with growth opportunities in the United States. Next year's Investment Summit will take place from June 10-12, 2019 in Washington, D.C. at the Washington Hilton.
Throughout its existence, the Investment Summit has been a key contributor to advancing the Department of Commerce's mission to support U.S. economic growth and create opportunities for hardworking Americans. Past Investment Summit participants have announced $98 billion in new investment projects which have been responsible for creating more than 150,000 American jobs.
Those participants include companies like Formosa Plastics, which attended the Investment Summit to find economic development connections in the United States before ultimately announcing a $9.4 billion investment in Louisiana. Grupo Bocar, a tier one automotive parts supplier, attended before deciding to invest $115 million in a facility in Alabama that will support 300 American jobs.
The SelectUSA Investment Summit is where business potential meets business opportunity. Our global Commerce Department team recruits and engages with businesses from around the world that have the desire to invest and the ability to succeed in the United States. Economic development organizations (EDO) representing states and cities from around the country come to the Summit to showcase everything that makes the United States the world's top destination for business investment.
From decades of experience in the private sector, I've come to learn that you need the right people in the room to get deals done. The Investment Summit fosters and provides that environment.
I invite any business that is looking to grow on a global scale to join me at the 2019 SelectUSA Investment Summit. I believe that the time you spend with our team, making connections at networking sessions, talking about opportunities in our matchmaking area, and learning about business trends in our Summit Academy, will pay dividends for years to come.