June 10 – 12, 2019 | Washington Hilton, Washington, D.C.
The SelectUSA Investment Summit:
Where Business Potential Meets Business Opportunity
The SelectUSA Investment Summit promotes the United States as the world's premier investment destination and connects qualified foreign firms with U.S. economic development organizations (EDOs) to facilitate business investment and job creation.
The Investment Summit draws high-caliber attendees to help you make connections and get started on business deals:
EDOs on site to share business location intelligence.
Pre-vetted potential investors actively seeking business opportunities in the United States.
Relevant service providers that can help investment possibilities become realities.
C-Suite executives and government officials who can discuss the latest policy and business trends.
Learn More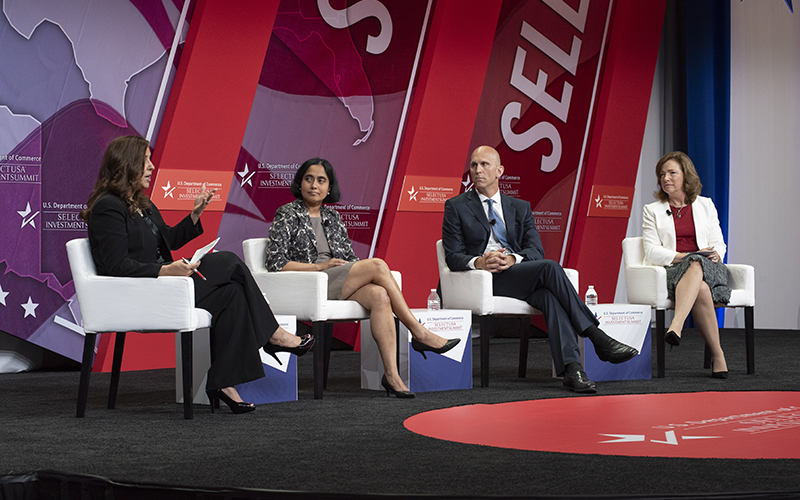 Latest Updates
Teaming Up for Tech at the 2019 SelectUSA Investment Summit
April 30, 2019
David Steel is the Executive Vice President of Corporate Affairs for Samsung Electronics America, which is an official sponsor of the SelectUSA Investment Summit.
Samsung marked its 40th year in the United States in 2018, an investment that has been nothing short of essential to our company's success. Not only was it an accomplishment worth celebrating, but it was also the perfect time to reflect on the importance of the U.S. market and the strong ties we have forged with American industry and consumers over the course of four decades.
Since 1978, Samsung's U.S. family has grown to 20,000 employees across 46 states. Whether investing in manufacturing facilities in South Carolina, cutting–edge startups in California,or expanding our massive semiconductor operation in Texas, Samsung also realizes that in order to tap the true potential of the U.S. market, we must continue to engage on the ground.
Read More
Highlights from the 2018 Investment Summit
The 2018 SelectUSA Investment Summit was the second Investment Summit to draw more than 3,000 participants to the Washington, D.C. area. Investment projects worth more than $600 million were announced at the Investment Summit, along with the release of SelectUSA's Rural FDI Report, which shows that nearly 95,000 jobs in rural America are supported by FDI. The 2018 Investment Summit included participants from 66 international markets, including 1,000+ global business investors and economic developers from 51 U.S. states and territories.




What is the Investment Summit?
Why Attend the Investment Summit?
View 2018 Videos